Scroll down to see the Family Feud Answer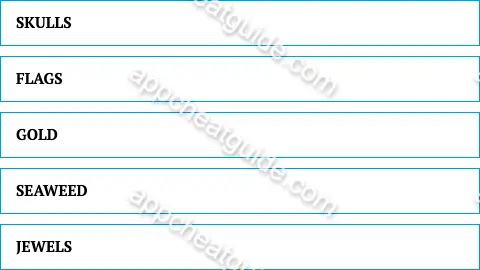 Family Feud Answers Survey Says
| Answer | Points |
| --- | --- |
| SKULLS | |
| FLAGS | |
| GOLD | |
| SEAWEED | |
| JEWELS | |
What's Family Feud Live?
Be the fastest contestant to type in and see your answers light up the board! Play Family Feud® Live and enjoy new graphics, surveys and challenges to become the Ultimate Feuder! Play Family Feud® Live any way you'd like. With 4 game modes to choose from, there's a Feud-style for everyone! Who is the ultimate Feuder? We've got the complete list of Family Feud Answers for Family Feud 1 and Family Feud 2. These games are mobile games and you can find all the questions below.
Look at the table for the Family Feud Answer with Points Name something pirates might decorate their ship with.
This answer was found in the game Family Feud 2‪‬. We first introduced this Family Feud question on 2021-05-10 and updated it on 2021-05-10. Please feel free to contact us if you have any questions or comments.
Play on iOS App Store and Android Google Play Store
App Store Google Play Store
CHALLENGE 1-ON-1 IN CLASSIC FEUD FUN Answer the best Feud surveys and play the best gameshow game, EVER! Master the questions and take all the coins for yourself!
FAST MONEY ROUND Prefer playing Fast Money Rounds? Now you can! Win bigger prizes; get 200 points on the scoreboard for an extra bonus, just like the show!
COMPETE IN ELIMINATION TOURNAMENTS Prove that you're the Ultimate Feuder to win huge! Play against the best to secure the gold medal.
PLAY RELAXED Find someone new to play with and make a new friend! With over 1.5 million new friends made while playing, Family Feud® Live! is the best way to connect with someone YOU want to play with! LEVEL UP Win matches to gain experience points. Can you reach the elusive Superstar level?
Featuring: - 4 game modes: Classic, Fast Money, Tournaments and Live - Test your Feud skills and take your opponent's coins - Over 2,500 Brand New Surveys - All-New Live Gameplay - Laugh with your opponent using our FREE In-Game Chat Family Feud Live! uses Facebook to ensure that everyone you meet is authentic.
---
Some More Top Questions